Hamburg, Germany. 26 October 2017 – To protect themselves as effectively as possible against complex cyber-threats, companies are increasingly adopting a combination of different security technologies. This practice often leads to multiple specialised solutions being used in parallel. However, the perceived increase in protection levels can also make security management more complex. This challenge can push IT teams to their limits, especially in small and midsized companies. With its cloud-based security solution ECS2, the German security provider Secucloud goes against this trend. The solution integrates a wide range of technologies in a single system, which it makes available to users from the cloud. This approach has now been honoured by the consulting and analyst firm Frost & Sullivan with its New Product Innovation Award 2017 in the cloud security services category.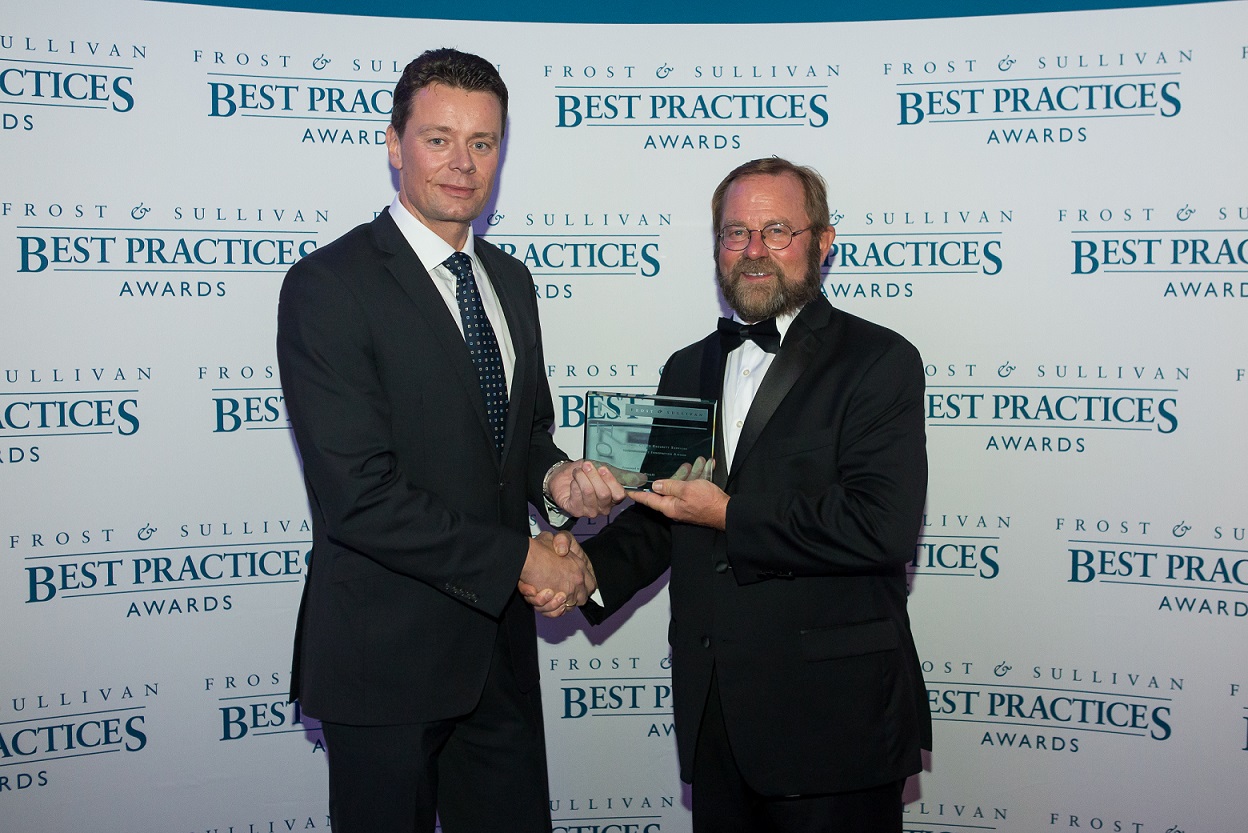 Candidates for the New Product Innovation Award are judged on several criteria, including "New Product Attributes" and "Customer Impact", which Frost & Sullivan ranks using its Decision Support Scorecard and a thorough analysis. For the "New Product Attributes" criterion, Secucloud scored 9 out of a possible 10 points, and for "Customer Impact" it even achieved the maximum number of points. It was therefore rated "Excellent" in both categories.
"Secucloud has created a totally new Cyber-Security framework that can process virtually unlimited traffic with more than a hundred million subscribers," says Chris Rodriguez, Senior Industry Analyst at Frost & Sullivan. "The ECS2 as the core DNA enables dynamic scalability in virtual cloud environments according to performance demands, whilst deploying the most up-to-date – patent pending – security technologies for cyber-attack detection and prevention."
The analysts also noted that Secucloud has brought a new and innovative product to market, its cloud-based security solution ECS2, that focuses strongly on product quality and customer benefit. They believe Secucloud has recognised two key requirements in today's security industry. The first is that small and midsized companies place significant importance on their security solution being centralised and easy to manage. This is because their IT teams tend not to have the capacity required to use and manage multiple standalone solutions in an efficient way. The second requirement Secucloud meets concerns service providers and telecoms companies. In the digital age, these firms are looking for ways to extend their offering with new services and to become a reliable security partner for their customers.
Innovative security concept
The Secucloud framework combines three different security components to provide users with the best possible protection. The first is comprehensive basic protection using multiple powerful security technologies, including anti-malware, anti-bot, anti-phishing, IP reputation und content security. The solution's second component provides extensive network protection with a range of tools, such as a next-generation firewall as well as advanced intrusion detection and prevention technologies. The third component ensures the detection and analysis of hitherto undiscovered threats using an integrated sandbox that analyses suspicious data streams for malicious content and malware.
The award was presented at a prize-giving ceremony in London on October 23rd. Dennis Monner, CEO of Secucloud, commented: "The current threat situation has led to a veritable arms race between cyber-criminals and security providers. Hackers keep developing new ways of paralysing systems, demanding ransoms and stealing valuable personal data and business secrets. The security industry counters with appropriate protection measures, forcing the cyber-criminals to find a new vector of attack. This vicious circle can only be broken if we deal with security using a completely new approach that integrates all the mechanisms required and places them on an overarching level: the cloud. It's a huge honour for us to receive this accolade from such a prestigious analyst firm as Frost & Sullivan. For us, the award is proof of the potential of our solution to efficiently stand up to increasing cyber-crime, both today and tomorrow."